Why you should be using QuickBooks Online for your small business
QuickBooks Online is one of the most popular cloud-based accounting software in the United States and our recommendation for your business.
Starting your own business was one of the best decisions you could ever make. You're making decent money and love calling yourself a small business owner. Operations, sales, and customer service are all hard work but fortunately, with determination, you find ways to be efficient at all times. With the year coming close to an end, however, there is still this nagging responsibility - bookkeeping. As time runs out before tax season starts up again, you become overwhelmed trying to find what exactly needs to be done for these tasks. Thankfully, QuickBooks Online simplifies things so that all you need to do from now on is keep running your successful company.
What is QuickBooks?
QuickBooks Online is a cloud-based bookkeeping system that simplifies the bookkeeping process and makes it easy for anyone to get into. Small business owners utilize QuickBooks to account for their invoices, bills, and cash flow; generate reports such as monthly and yearly summaries; prepare for quarterly or annual tax season and so much more. They not only help you track your finances but create reports for you so you can know what's happening with your business. The best part is, that all financial information is stored in cloud which means that the records you create are accessible from anywhere!

Some small businesses take on the responsibility of managing their own books while others may opt for hiring an in-house or bookkeeping service. The beauty of QuickBooks is with the advanced features that they offer, anybody can find value out of QBO no matter what option you choose. Business owners with a background in finance or accounting may dare to tackle these tasks themselves. They will find that QuickBooks modernizes the process of bookkeeping to make things simple and easy to digest.

However, many entrepreneurs may not want to spend the time and energy managing their own books, or go through the initial learning process. Because of this, many business owners will decide to go with a bookkeeping service who will not only save them time and effort but possibly find ways to save money as well! A finance professional can see ways to save money on taxes, cut costs, and organize your reports to be displayed cleanly. This allows you to be worry-free about the numbers side of things, while you focus on running your business.
Why Choose QuickBooks?
So what makes QuickBooks better than its competitors? Well here are 7 reasons why we recommend QuickBooks as your bookkeeping software:
1) Industry dominance:
QuickBooks was created in 1983, which is a testament to its longevity as a service. By around 2013, they became a dominator in the industry claiming up to 85% of US small businesses in the accounting software market. With the sheer volume they have and years of experience, you can be assured that you are getting the best quality of service available. Not to mention, their support team is award-winning as well.
2) User Community:

Because of the popularity QuickBooks has gained as an accounting software solution. QuickBooks has developed an engaged user community who have become experts on this platform. Having an active community of users who are willing to lend technical support to those facing challenges can prove to be ever so useful in your bookkeeping journey.
3) Intuit Integrations: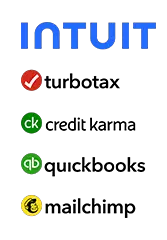 QuickBooks benefits from being a part of the Intuit software company; the largest financial software service in the US. This means that your data will easily integrate with the majority of platforms in the US and seamlessly transfer your information. Thus, you can be more likely to avoid having to redo your bookkeeping when switching platforms and avoid the expensive old bookkeeping fees that many services charge. Your tax preparer will thank you!


4) Fully Digital:

How would you deal with a client who wants to pay without any cash? In the old days, you might wait for them to deposit a cheque, but that is time-consuming and there are now better options available. With QuickBooks' Online Billing System, you can accept client payments via debit or credit card over email right away. While we ultimately don't recommend QuickBooks billing system alone, it can be a great fast way to get your ability to accept payments up and running quickly. This ties into the modern shift to paperless accounting. QuickBooks features a mobile app that lets you scan and document receipts for business expenses on the fly, keeping your expense tracking comprehensive, yet transparent too.
5) Peace of Mind:
The benefit of a cloud-based accounting service is it eases the anxiety you have about your financial records. Storing your records on the cloud means that your files will be saved forever. No more having to create multiple backup copies in fear of a computer crash. Having your records stored in the cloud also means that no files need to be downloaded locally. This ensures that your financial information is safe from being stolen as long as your account is secure. QuickBooks also automatically sorts and calculate your VAT (Value-added tax), and submits your tax returns directly. You can set up reminders so you know what tax you owe and when it's due. QBO will also highlight any errors before you submit them, so your taxes will always be punctual and orderly.
6) Tier system: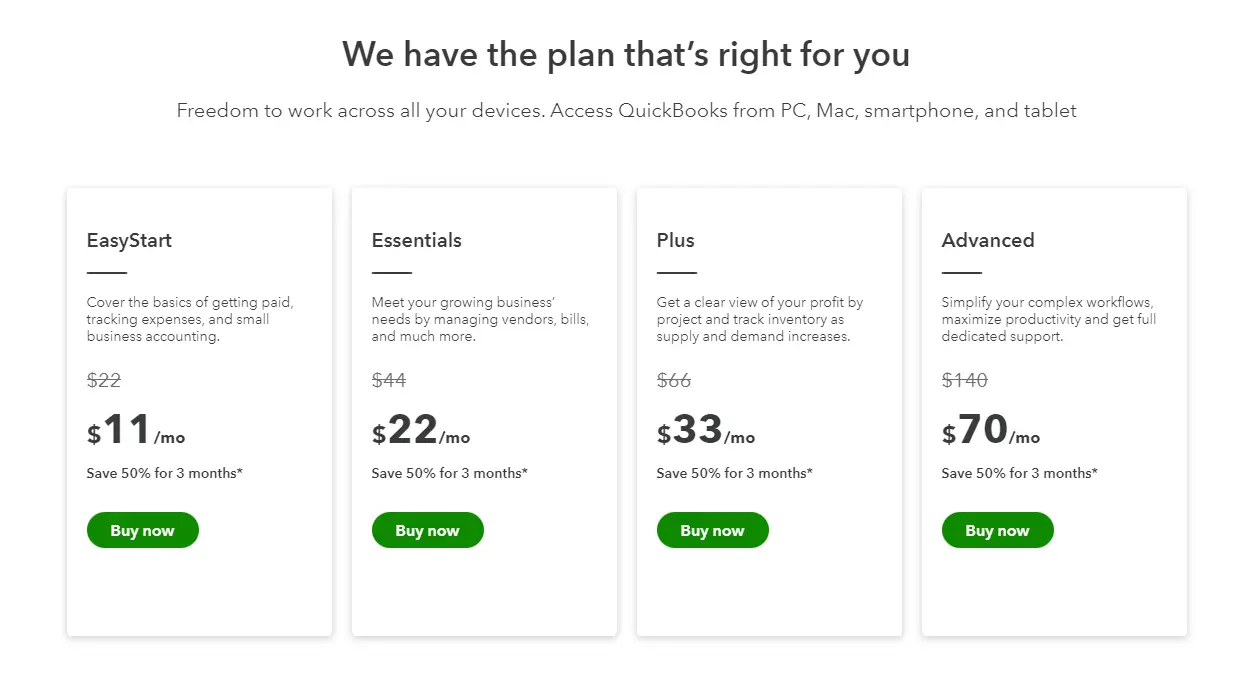 QuickBooks has a quadruple tier system so you can choose the right tier for your business. From their EasyStart plan at $5.50/month to their Advance plan at $35/month, you are sure to find a plan that fits your needs. For those just starting out, either of the beginner plans are easy on the wallet and great to get into.
7) Advanced features: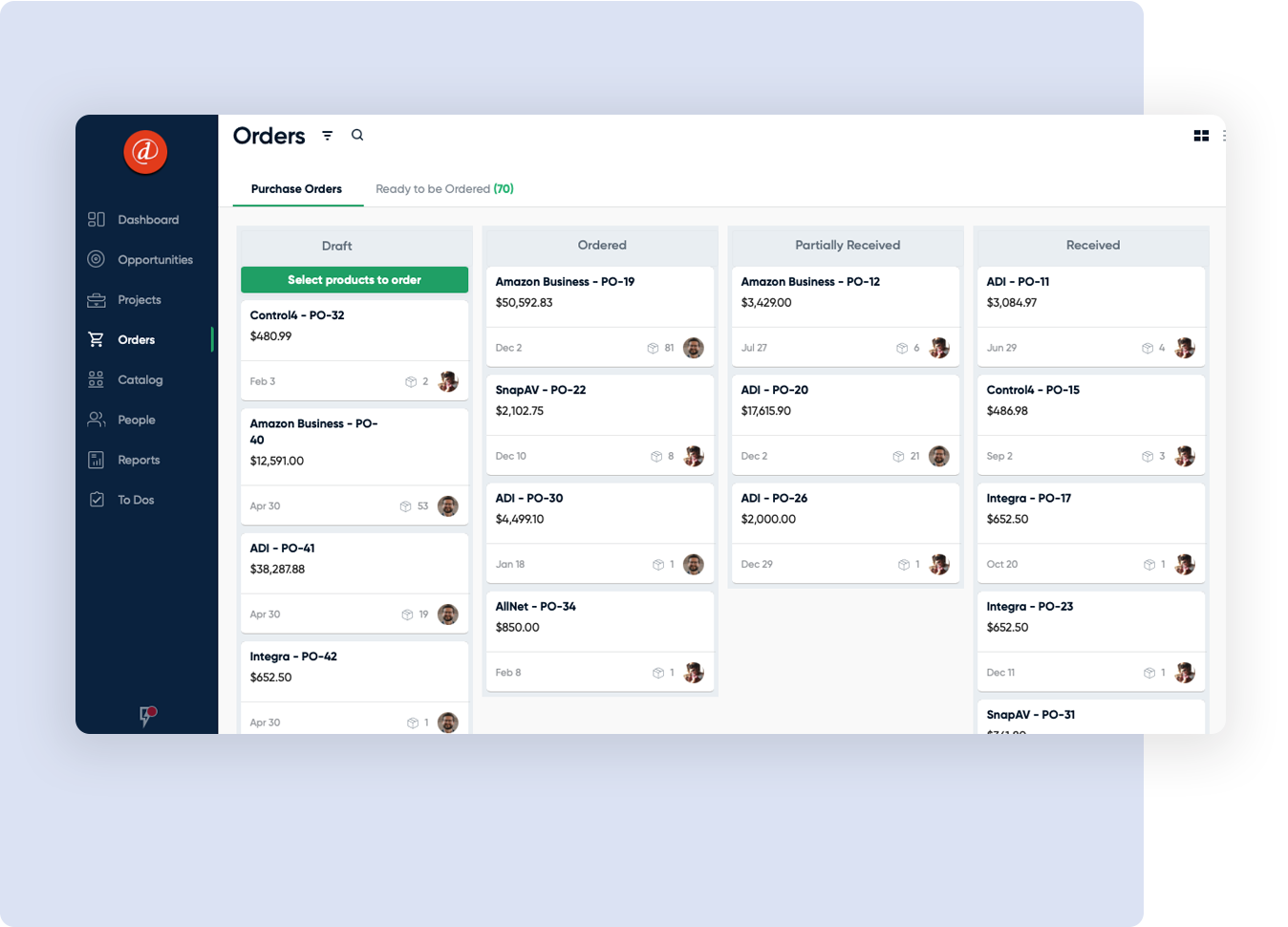 The biggest advantage is that QuickBooks has the most comprehensive system out of all the cloud-based accounting software. Small things like more detailed reporting, customizable expenses, and modifiable invoices, will make your life so much easier. The system features in place are designed to create the best possible records for any type of business.
Need help with your bookkeeping? Feel free to chat with us to see what we can do for your business.